International Study Program




Scientific and Cultural Aspects of the Bicycle:




Investigations with International Teams

Using Multimedia




E.C. and U.S. students enrolled in one of the partner institutions listed below will become part of an international team of students who will investigate various scientific and cultural aspects of the bicycle, and create multimedia instructional materials about their activities. The students will become part of a three-year effort that will link international students by computer and bring them together periodically to work face-to-face.

Using state-of-the-art digital technologies - the Internet, the World Wide Web and desktop video - students will produce a CD-ROM based on the science, technology and cultural aspects of the bicycle. Individual projects could range from a bicycle designed for the handicapped to investigating the safety of different designs of bike helmets to developing an understanding of the way bikes are used in different localities. Each student will spend three months abroad during the project. They will work with fellow team members studying and testing bicycle design or other projects, including the cultural aspects of bicycles.

---
Links to Student Projects
Article in Kansas State Collegian
---

European Partner Countries and Institutions
---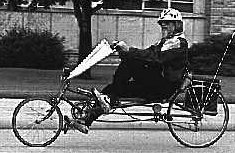 For more information contact Dean Zollman email: dzollman@phys.ksu.edu.
List of home pages for cities, newspapers and universities involved in the project.
This project is funded by European Commission & U. S. Department of Education Joint Consortium for Cooperation in Higher Education.