International Bicycle Project

A STUDENT EXCHANGE PROGRAM INVOLVING

SCIENTIFIC AND CULTURAL ASPECTS OF THE BICYCLE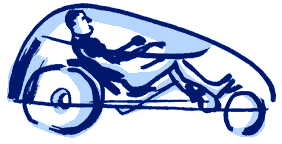 | | |
| --- | --- |
| Attend 1 of 5 European universities | Program length of at least three months |
| Concentrate on any aspect of the bicycle: cultural, technical or scientific | Program begins at an Amsterdam workshop in August 2000 |
| Use knowledge from any field | Applications received by April 10 will be given priority |
| Credits transferrable to KSU | |
A Quick Look
Students who join this exchange program will become part of a three-year effort that will link international students by computer and bring them together periodically to work face-to-face. U.S. students will study in one of five European universities: the University of Vienna, Austria; University of Hyvaskylla, Finland; University of Kiel, Germany; University of Amsterdam, The Netherlands or the University of Athens, Greece. Using state-of-the-art digital technologies --- the Internet, the World Wide Web and desktop video --- students will produce a CD-ROM based on the scientific, technological and cultural aspects of the bicycle. Individual projects could range from a bicycle designed for the handicapped to investigating the safety of different designs of bike helmets to developing an understanding of the way bikes are used in different localities. Students will spend three months abroad during the project. They will work with fellow team members on their bicycle-related projects, including the cultural aspects of bicycles.
Contact
Barry Michie, Director, Study Abroad Programs, 304 Fairchild Hall, Manhattan, KS 66506-1111, (785)532-5990
Dean Zollman, KSU Physics Department, 503 Cardwell Hall, Manhattan, KS 66506-2601, (785)532-1619
Who is eligible to apply?
The program is open to graduate and undergraduate students in good standing at KSU who have had at least one year of university-level of study. A minimum 2.5 GPA is required. Graduate students may apply for graduate-level programs with the approval of their graduate committee. Nominations for placement are made following review of applications and an interview by the bicycle project program selection committee.
Financial aid
Stipends are available to cover most of the costs. This program permits students to continue their KSU enrollment and may allow continuation of their regular student financial assistance while abroad.
How much will it cost?
For KSU students, the cost of the program ranges from $150 for an internship to tuition for full enrollment. Participants will pay $400-600 per month for room and board at the host institution. Additional costs for transportation, books and personal expenses have not been included.
What about transportation?
Students are responsible for their own travel arrangements. The Study Abroad Director can provide information on discounted fares.
What else is needed?
Passport and visa information, books and other materials about living, traveling, and working abroad are available in the Office of International Programs.
Academics
Students should discuss study plans with their regular academic advisers and the Study Abroad Director. This will ensure that credits are transferable and will not interfere with regular course of study.
Language
The mentors for the research project speak English. Knowledge of the host country language is desirable but not required.
Notice of Nondiscrimination
Kansas State University is committed to a policy of nondiscrimination on the basis of race, sex, national origin, handicap, religion, age, sexual preference, or any other non-merit reasons in admissions, educational programs or activities, and employment as required by all applicable laws and regulations.